Event Photographers: Event Photography Tips

Below are some suggestions when you are considering hiring an event photography professional. Unless you are using digital photography, you only have one chance to capture your events highlights. Because of this, whom you choose for your event photography will be among the most important decisions for your event. We have provided event photography tips below to help you choose wisely. These are only a sample of the questions you may want to ask potential event photographers; dont be shy about asking more!
1.
Is the photographer available on your event day? If so, how many other events with he/she shoot that day? Could this cause a possible scheduling conflict?
2. How is price determined? Are packages available? Does he/she have a readily available price list?
3. Do you like this person? Is it someone whose presence you can tolerate throughout your event?
4. What's the photographer's style candid, portrait, posed?
5. Does the photographer use color, black and white, or both?
6. Is the photographer you are interviewing the one who will actually take the pictures?
7. Ask to see the photographers portfolio. Do you like his/her style? Are the pictures of good quality? Well-lit? Well-posed? Centered?
8. Ask for past customer references and call them!
We hope these event photography tips will help you choose the right person to capture your event. .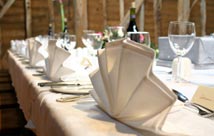 | | | |
| --- | --- | --- |
| | | Respond Photography Directory lists the top Professional Photographers in your area, organized by specialty and office location. |