Wedding Photographers: Hire Professional Wedding Photographers for Your Wedding

The idea of hiring professional wedding photographers to capture the moments of your special day is becoming quite popular. It first caught everyone's attention when the awesomely brilliant pictures of celebrity weddings were splashed on magazines.
Previously, people relied on their friends and acquaintances to capture their special moments. Even now, wedding photography is sometimes handled by the family members.
It definitely helps in saving some money, but there's a distinct difference in the output, the quality, and the essence of the day captured.
Reasons for hiring a professional wedding photographer for your wedding:
*A professional wedding photographer will capture you at your best without your even realizing it. Expert wedding photographers know how to recreate the magic of your special day through artistically captured snaps.
*You also have to keep in mind that though you might save some money by not hiring a professional wedding photographer you might actually end up spending far more in order to edit those unprofessional snaps in which you are unfortunately not looking your best. So, instead spending a lot of money later on in addition to the dissatisfaction and frustration with the bad pictures it is better to hire expert wedding photographers who know what they are doing.
The difference between portrait photographers and wedding photographers:
*In order to understand why you need to hire a professional photographer who specialize in wedding pictures, you need to know that there is a distinct difference between a portrait photographer and a wedding photographer.
*A portrait photographer can as ask his/her model to pose, and can spend lots of time till he/she feels gets the best moment.
*A wedding photographer needs to be spontaneous, to click right then and there when a moment appears -- the shy smile of the bride when she catches her groom looking at her slyly, the tears and smiles playing on the bride's dad's face, etc.
These moments can't be posed, they are natural, and a professional wedding photographer is always on the look out for these moments. The minute he sees such a moment, he clicks it; and you get the story of your wedding day retold through your snaps again. .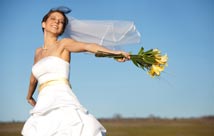 | | | |
| --- | --- | --- |
| | | Respond Photography Directory lists the top Wedding Photographers in your area, organized by specialty and office location. |